The Support And Resistance Indicator aims to assist a trader in their everyday trading. It automatically spots the levels the price has actively interacted with before and draws them on the MT4 chart as rectangular areas.
The price range (height) of support or resistance areas depends on the spread between price highs and lows that the level goes through.
Resistance levels are marked in orange, and support levels are marked in blue.
The Support&Resistance indicator does not repaint. However, the occurrence of new highs/lows within the range of a specific support/resistance can expand its height.
The best timeframes to work with are M15-H1.
How the Indicator Spots Levels
There are many approaches to drawing support and resistance levels. For example, the Pivot Points indicator uses data from previous candlesticks for this purpose. In turn, the S&R indicator identifies the levels with the maximum number of price touches.
Touch is a subjective concept since everyone interprets it in their way. Therefore, we used a freely available Fractal indicator to identify touches, which are also extreme levels of the price.
The formula of the Fractal indicator works regardless of the timeframe, so the Support and Resistance indicator works on any timeframe as well.
After identifying and marking the touches, the indicator algorithm will spot the levels with the maximum number of price interactions and display them on the chart.
To see the price interactions with a certain level, click the weight number on the left side of the rectangle.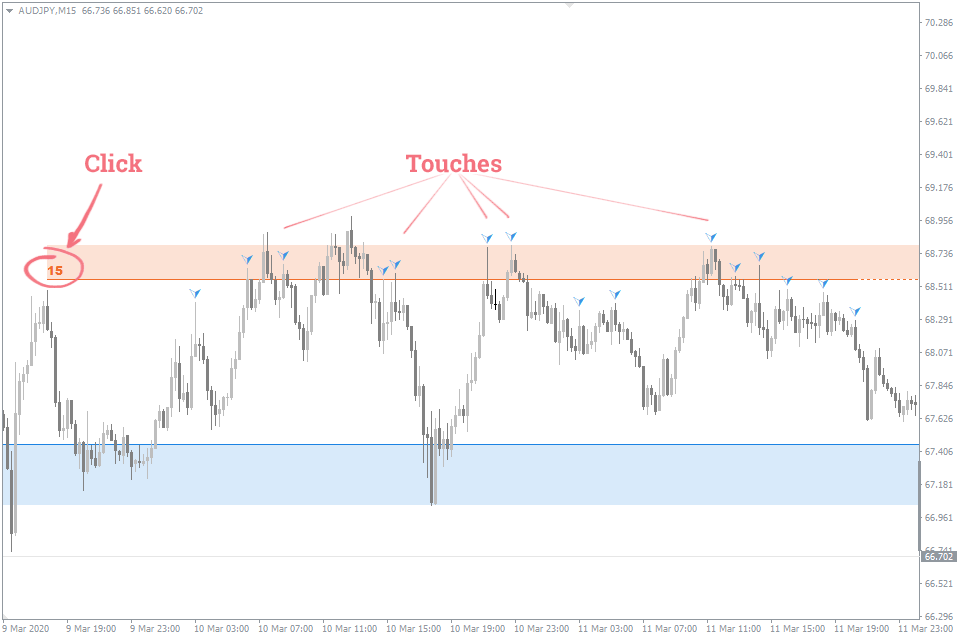 As you can see, some of the interactions are out of the filled rectangle, but this is not the indicator's error. These touches are used to identify levels more precisely.
Support and resistance levels themselves occupy just under 50% of the area analyzed by the algorithm.
For whom is the Support And Resistance indicator suitable?
Support and resistance are important price reference levels that help traders in making Forex trades. Therefore, the S&R indicator is well compatible with any other indicator or trading system.
If you're a novice trader, it's important for you to learn how to draw support and resistance levels by yourself. However, the S&R indicator can be a good help if you don't have enough skills yet.
The indicator will be useful for experienced traders as well, as it saves time on drawing the levels.
Trading With the Support And Resistance Indicator
There are three major techniques of trading with strong support and resistance levels:
Rebound (Bounce) from a level,
Level breakout,
Retest of the broken level.
Their benefit is that they are quite simple, so even a novice trader can easily use them.